Rod Bushes
TRINITY AUTO ENGINEERING (P) LTD., ISO 9001:2015 CERTIFIED COMPANY, SUPPLIER, EXPORTERAND MANUFACTURER OF ROD BUSHES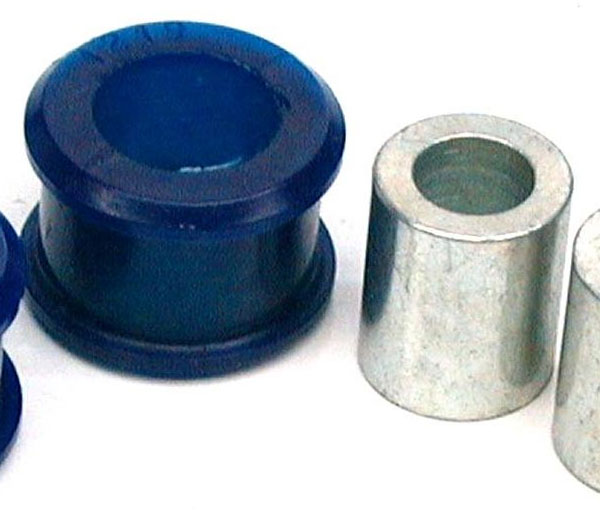 Click here to Send Enquiry
WhatsApp

Our every product follows the industrial quality standards and is a combination of latest technologyand high-grade raw material. Our attempt is to produce best products available in the market and to ensure this; our team puts their 100% efforts. Our products are many times designed to meet some specific requirements of clients. Rod bushes meet the requirements of textile and automobile industries in an efficient manner.
What are Rod Bushes?
Rod bush has a very simple and important function. It's responsible for reducing engine vibrations that are experienced while driving a vehicle. It helps in reducing the axle's housing from twisting when one gives acceleration or applies brakes. These bushes are mostly used in heavy vehicles such as trucks, heavy trucks, railway coach, trailers, dumpers and more. Hence, such bushings are also known as Truck Torque Rod Bushes.

Usually, the rod bushes are designed using rubber (both natural rubber of different grades and alternative elastomers) and exhibit excellent torsional stiffness and high rated axial and radial load withstanding capacity. These rubber bushes feature a rubber cylinder bonded on their outer and there are inner surfaces to rigid metal layers. While a large variety of rod bushes are available in the market in standard sizes and specifications, customized or special requirements or sizes for suiting specific application can also be made to order. Rod bushes especially find widespread usage in linkages of under carriage of railway coach, trucks, trailers and dumpers among others.
Features of Rod Bushes
Smooth movement
Vibration isolation
Noise reduction
Excellent torsional stiffness
High rated axial and radial load withstanding capacity
Pre-stressed rubber to offer maximum durability and dynamic strength
Does not require frequent lubrication or other bearing maintenance
Easily customizable
Extremely easy to install
Our products are packed in extra care and precautions in wooden pallets/cartons or corrugated boxes/HDPE polybags to ensure the delivery remains safe and unharmed. These boxes are generally available in sizes of 25 kg, 50 kg and 100 kg.Depending on our customer's needs; we also customise the boxes ensuring the customer is happy and satisfied with our products and service.

Feel free to get in touch with us regarding your queries or if you wish to buy rod bushes, we'll be grateful to assist you.

Trinity Auto Engineering (P) Ltd. – Supplier, Exporter, Manufacturer of Rod Bushes


Click here to Send Enquiry
WhatsApp