Silent Block Bushes
TRINITY AUTO ENGINEERING (P) LTD., ISO 9001:2015 CERTIFIED COMPANY, SUPPLIER, EXPORTERAND MANUFACTURER OF SILENT BLOCK BUSHES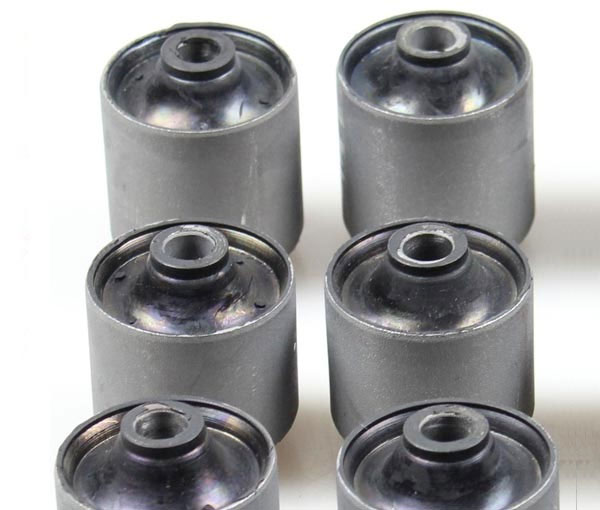 Click here to Send Enquiry
WhatsApp

Trinity is widely acknowledged as one of the leading manufacturers, exporters and suppliers engaged in offering premium quality silent block bushes across the world. A highly effective combination of latest engineering technologies and production techniques are used to produce our rubber silent block bushes and automotive silent block bushes.
What are Silent Block Bushes?
Silent Block Bushes also known as Silent Block Bushings and Silent Block Rubber Bushes, are very important components of any automobile. These bushes are made from premium quality raw material to ensure a strong and long lasting product. Consisting of two concentric steel sleeves with rubber securely bonded between them ensures a strong design and construct. The rubber is flowed into the gap between two sleeves in order to fill up the void and further vulcanized at constant temperature and pressure. Extra pressure is added to ensure maximum dynamic strength as well as endurance.
Types of Silent Block Bushes
Features of Silent Block Bushes
Strong and long-lasting
Specially designed for torsional movement, axial and radial load
Applications of Silent Block Bushes
To check the load bearing problem in vibrating and oscillating systems
Used in linkage systems in various types of automotive car suspensions, tractors, railway carriages, trucks, agriculture dumpers, trailers, and machinery
Our products are packed in extra care and precautions in wooden pallets/cartons or corrugated boxes/HDPE polybags to ensure the delivery remains safe and unharmed. These boxes are generally available in sizes of 25 kg, 50 kg and 100 kg.Depending on our customer's needs; we also customise the boxes ensuring the customer is happy and satisfied with our products and service.

Feel free to get in touch with us regarding your queries or if you wish to buy silent block bushes, we'll be grateful to assist you.

Trinity Auto Engineering (P) Ltd. – Supplier, Exporter, Manufacturer of Silent Block Bushes


Click here to Send Enquiry
WhatsApp