U Mountings
TRINITY AUTO ENGINEERING (P) LTD., ISO 9001:2015 CERTIFIED COMPANY, SUPPLIER, EXPORTERAND MANUFACTURER U MOUNTINGS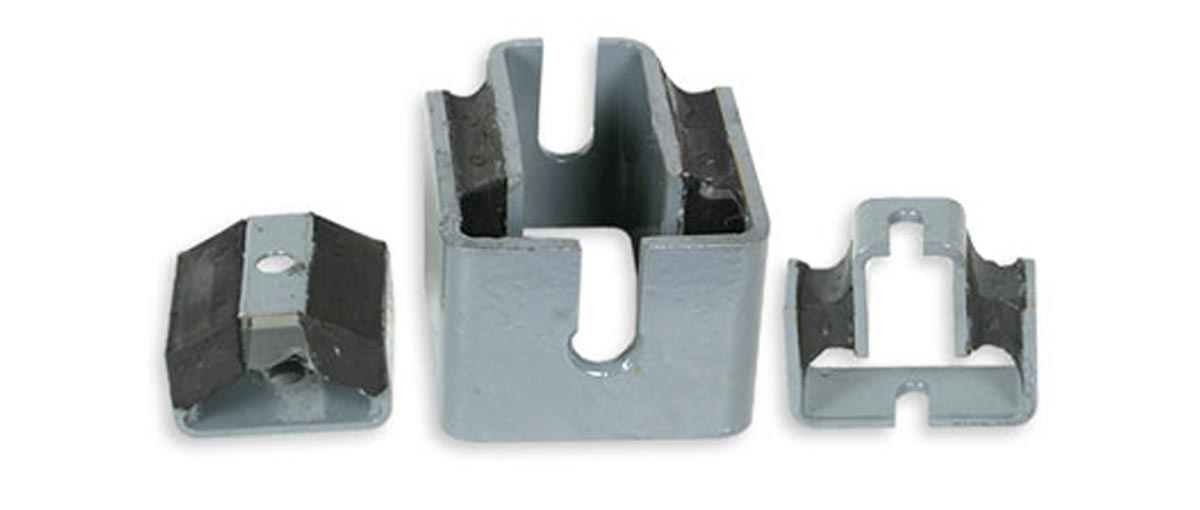 Click here to Send Enquiry
WhatsApp

A vehicle is installed with many kinds of rubber mounts. From the fuel pump, the radiator, the gearbox to the engine, these mounts can be spotted everywhere in the vehicle. Carefully engineered using special grade of rubber and effective technology, these rubber mounts in cars are high performance shock absorbing components known for reducing transmitted noise and vibration in automobiles as well as moving parts of various engines and machineries. Each mount having a specific role to play is an important part to keep the machine running smoothly and for longer periods of time. U mountings are one of those mounts which help in maintaining a good health and also increasing the longevity of your machine.
What are U Mountings?
U mountings are also known as U mounts, U shear mounts, double U shear mounts, rubber U mounts and rubber U mountings, capable of having very high shear strength. The specific design of these mounts enables them to provide vibration and shock resistance in lateral and vertical direction. These U mounts have high utility in automobile and other equipment/instruments as well, like electronics apparatuses, suspending light components, electrically controlled panels, high speed motors for hydraulic power packs and buffers amongst others. These mounts find utility in equipment requiring some level of shock resistance and noise reduction.

Features of U Mountings
Resistant to grease, lubricants, chemicals and oils
Resistant to extremities of various operating conditions
Resistant to surface abrasion wear
Resistance to temperature variations
Resistance to sunlight and UV rays
Higher radial elasticity than axial elasticity
Easily available in various configurations
Extremely easy to install
Requires no special parts or maintenance
Isolates vibration
Absorbs shock
Reduces noise
Factors to consider before buying U Mountings
Before procuring any part for your machine, you should take care of certain pointers. Before buying U mounts, please look for the following features:
Material used for manufacturing
Size of the mounting depending on the application
Shock absorbing capacity
Load bearing capacity
Deflection characteristic of the mounting
Thread size and quality of nuts and bolts used in the fabrication job

Our products are packed in extra care and precautions in wooden pallets/cartons or corrugated boxes/HDPE polybags to ensure the delivery remains safe and unharmed. These boxes are generally available in sizes of 25 kg, 50 kg and 100 kg.Depending on our customer's needs; we also customise the boxes ensuring the customer is happy and satisfied with our products and service.

Feel free to get in touch with us regarding your queries or if you wish to buy U mountings, we'll be grateful to assist you.

Trinity Auto Engineering (P) Ltd. – Supplier, Exporter, Manufacturer of U Mountings


Click here to Send Enquiry
WhatsApp