Metal Bonded Bushes
TRINITY AUTO ENGINEERING (P) LTD., ISO 9001:2015 CERTIFIED COMPANY, SUPPLIER, EXPORTERAND MANUFACTURER OF METAL BONDED BUSHES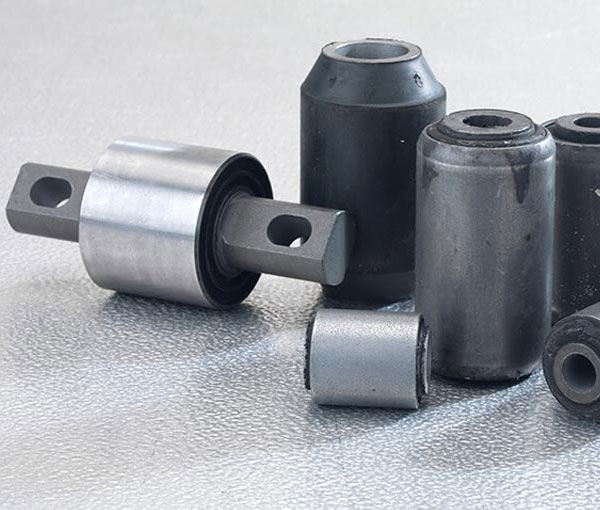 Click here to Send Enquiry
WhatsApp

With our high-quality products and satisfying customer service, we've earned a trust-worthy reputation in the industry. We, supply, export and manufacture many products to keep up this reputation, metal bonded bushes are one of them.
What are Metal Bonded Bushes?
Fully metal bonded bushes consist of rubber attached between two concentric steel sleeves. The objective of using these bushes is to handle small torsion, conical and axial movements and endure radial loads.

These bushes are commonly used in submersible pumps & motors for various applications.

The moulded part is later 'stress relieved'. This is process to improve the performance of the bush by pre-stressing the rubber. As with all rubber bearings, the bush accommodates misalignment, provides noise and vibration isolation and protects from shock loads.
Features of Metal Bonded Bushes
Due to the presence of rubber bearings, metal bonded bushes possess many qualities like:
High strength
Dimensional accuracy
Durability
Corrosion and impact resistance
Our products are packed in extra care and precautions in wooden pallets/cartons or corrugated boxes/HDPE polybags to ensure the delivery remains safe and unharmed. These boxes are generally available in sizes of 25 kg, 50 kg and 100 kg.Depending on our customer's needs; we also customise the boxes ensuring the customer is happy and satisfied with our products and service.

Feel free to get in touch with us regarding your queries or if you wish to buy metal bonded bushes, we'll be grateful to assist you.

Trinity Auto Engineering (P) Ltd. – Supplier, Exporter, Manufacturer of Metal Bonded Bushes


Click here to Send Enquiry
WhatsApp