Suspension Bushes
TRINITY AUTO ENGINEERING (P) LTD., ISO 9001:2015 CERTIFIED COMPANY, SUPPLIER, EXPORTERAND MANUFACTURER OF SUSPENSION BUSHES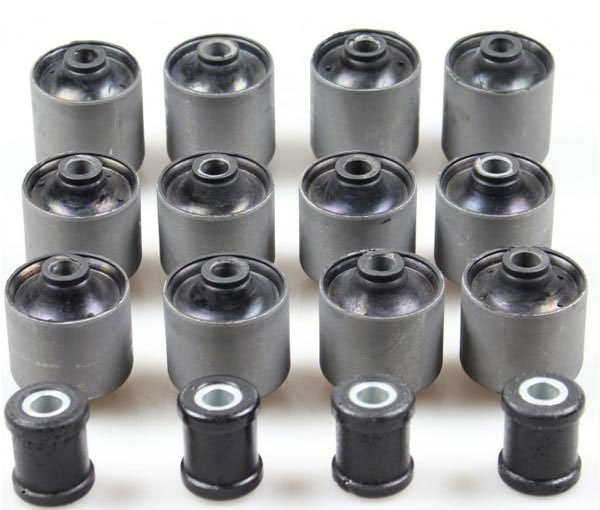 Click here to Send Enquiry
WhatsApp

When all parts of your vehicle are performing properly, you get a smooth and pleasant drive every time. Suspension bushes are one of those parts which make you experience a comfortable and bumps-free drive. At Trinity, we see to it that top-quality raw materials like CDW, CRC and ERW are used to make the final products. Since our products are made of best raw material, the durability and longevity of our products automatically increases.We also have a wide range available for molded rubber parts, automobile rubber elements and automotive metal bonding rubber parts.
What are Suspension Bushes?
Suspension bushings are the mechanical devices that join together two moving parts of an automobile or similar mechanical structure that is characterized by movements of its parts. In a car or other vehicles, suspension bushes are used to connect the various moving arms and pivot points to the chassis and other parts of the suspension.

In these types of bushes the rubber NR used is of high quality and is securely bonded between inner and outer metal to give maximum axial, radial and torsional stiffness. These are manufactured in injection type of moulding machines. The dimensions of the metal parts are controlled by grinding process. To get maximum bonding strength the metal parts are chemically treated, i.e. phosphatised, before adhesive application.

These bushes play an important role in providing cushion to the entire body of your automobile, be it a car or bike. It absorbs the jerks and shocks a vehicle experiences on rough terrains and roads. Car suspension bushes provide stability to moving cars. The tight grip or stability on the road ascertains that the car tires are in greater contact with the road at all times. This is very crucial because without it the balance between steering and tires may get disturbed, resulting in adverse effects on the proper alignment of vehicles.
Features of Suspension Bushes
High durability
Tensile strength
Easy installation
Resistance to adverse conditions
Impact resistance
Our products are packed in extra care and precautions in wooden pallets/cartons or corrugated boxes/HDPE polybags to ensure the delivery remains safe and unharmed. These boxes are generally available in sizes of 25 kg, 50 kg and 100 kg.Depending on our customer's needs; we also customise the boxes ensuring the customer is happy and satisfied with our products and service.

Feel free to get in touch with us regarding your queries or if you wish to buy suspension bushes, we'll be grateful to assist you.

Trinity Auto Engineering (P) Ltd. – Supplier, Exporter, Manufacturer of Suspension Bushes


Click here to Send Enquiry
WhatsApp