Rubber Bellows
TRINITY AUTO ENGINEERING (P) LTD., ISO 9001:2015 CERTIFIED COMPANY, SUPPLIER, EXPORTERAND MANUFACTURER OF RUBBER BELLOW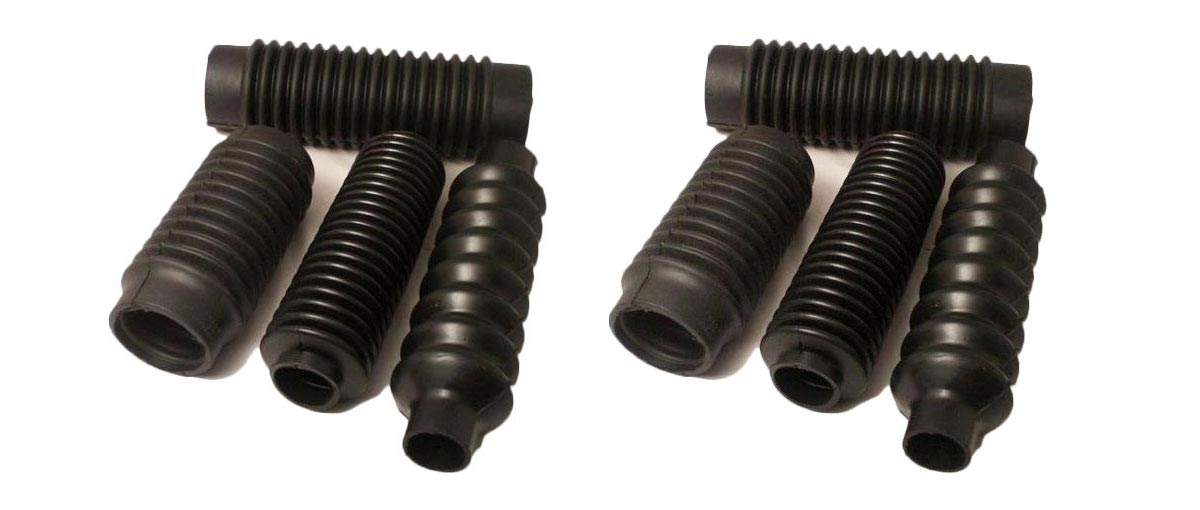 Click here to Send Enquiry
WhatsApp

With our high-quality products and satisfying customer service, we've earned a trust-worthy reputation in the industry. We, supply, export and manufacture many products to keep up this reputation, rubber bellows are one of them. We have a wide range of other necessary components like metal bonding rubber parts, automotive rubber fittings, rubber moulded components and compression molded rubber parts.
What are Rubber Bellows?
Rubber Bellows are one of the significant components of automobile, specially steering system of cars. It is a cylindrical vessel that is available in various sizes, shapes and elastomer coated fabrics/rubbers to suit different application requirements of vehicles. Bellows come in different flexible sizes because of which they are easily extensible and compressible and are highly recommended for providing effective cushioning effect. These are used to protect, cover and enhance the service life of various machine parts such as lead screws, spindles, shafts, guide ways, pistons, cylinders, and more from dust and other foreign particles.

Apart from the automotive rubber bellows which are used in automobiles, the rubber bellows are also used in areas like Motion Coupling, Chemical, Electrical Contacts, HVAC, Petrochemical, among others. To suit specific industrial application, different types of rubber bellows are available in the market including single ended rubber bellows, double ended rubber bellows, rubber bellows with ribs and rubber bellows without ribs.

These are produced using various synthetic polymers like SBR, Neoprene, HNBR, EPM and EPDM.
Features of Rubber Bellows
Long lasting quality
Ease of installation
Minimal maintenance charge
Cost effective
Normally used as covers on parts which are critical and need protection from dust
Flexible with good cushioning properties
Leakage protected structure
Light-weight
Compact shape
Temperature resistant
Application Areas
The design, hand-build variety and different sizes of these bellows makes them cater multiple automotive & general industrial applications. Mentioned below are some industrial segments, where bellows are majorly used:
Aerospace: HVAC (Heating, Ventilation and Air Conditioning)
Automotive: Marine
Chemical: Motion Coupling
Electrical Contacts: Petrochemical
Fluid Coupling: Semiconductor
Factors to consider before buying Rubber Bellows
Rubber bellows play a very integral role in the machinery they are used in, hence it is very important to take care of certain pointers before making the purchase. Mentioned below are some important factors which you should always check before procuring these bellows.
Material used in designing the bellow (the inside material should be suited to oil, lubricants and grease, and on the outside it should be susceptible to conditions like UV and ozone)
Shape of the rubber bellow (rectangular, round, square, tapered, C-type, hexagon, octagon, polygon etc.)
Inside and outside diameter of the bellow
The free or the unloaded length of the bellow along the convolutions
The spring rate or the spring force that the bellow applies

Our products are packed in extra care and precautions in wooden pallets/cartons or corrugated boxes/HDPE polybags to ensure the delivery remains safe and unharmed. These boxes are generally available in sizes of 25 kg, 50 kg and 100 kg.Depending on our customer's needs; we also customise the boxes ensuring the customer is happy and satisfied with our products and service.

Feel free to get in touch with us regarding your queries or if you wish to buy rubber bellows, we'll be grateful to assist you.

Trinity Auto Engineering (P) Ltd. – Supplier, Exporter, Manufacturer of Rubber Bellows


Click here to Send Enquiry
WhatsApp