Shackle Bushes
TRINITY AUTO ENGINEERING (P) LTD., ISO 9001:2015 CERTIFIED COMPANY, SUPPLIER, EXPORTERAND MANUFACTURER OF SHACKLE BUSHES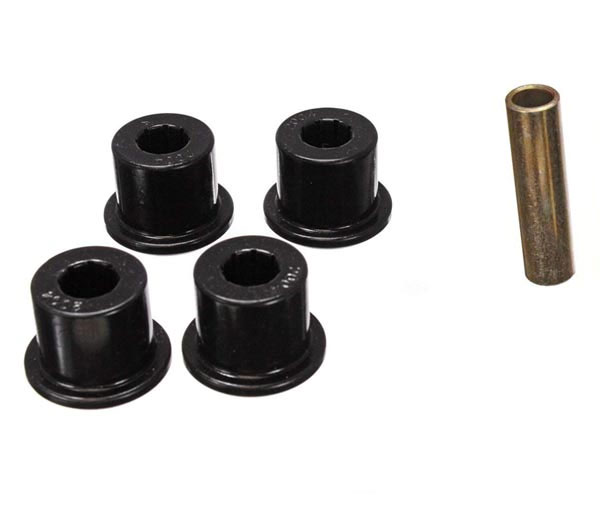 Click here to Send Enquiry
WhatsApp

When a person invests in an automobile or machinery, their dream is to use it in a healthy state for as long as possible. Once the machinery starts aging, efforts are put in servicing it and maintaining its longevity. One of the ways to keep using the machine effectively is investing in the right parts which are of good quality. With our products, our aim is to help you in running your machinery for longer and better
What are Shackle Bushes?
These bushes are made of high quality Polyurethane which is a superior material that has a higher load-bearing capacity.It is very effective in resisting the dynamic torque-like twisting and turning forces of suspension components.

The shackle bush is used to locate springs in a vehicle and offers insulation for NVH (noise, vibration and harshness). These bushes are also submitted to tremendous loading and have a significant effect on the handling of a vehicle.
Features of Shackle Bushes
Sturdy design
Durability
Easy installation
Our products are packed in extra care and precautions in wooden pallets/cartons or corrugated boxes/HDPE polybags to ensure the delivery remains safe and unharmed. These boxes are generally available in sizes of 25 kg, 50 kg and 100 kg.Depending on our customer's needs; we also customise the boxes ensuring the customer is happy and satisfied with our products and service.

Feel free to get in touch with us regarding your queries or if you wish to buy shackle bushes, we'll be grateful to assist you.

Trinity Auto Engineering (P) Ltd. – Supplier, Exporter, Manufacturer of Shackle Bushes


Click here to Send Enquiry
WhatsApp