Rubber Bushes
TRINITY AUTO ENGINEERING (P) LTD., ISO 9001:2015 CERTIFIED COMPANY, SUPPLIER, EXPORTER AND MANUFACTURER OF RUBBER BUSHES

No jerk, no noise, make for a happy ride!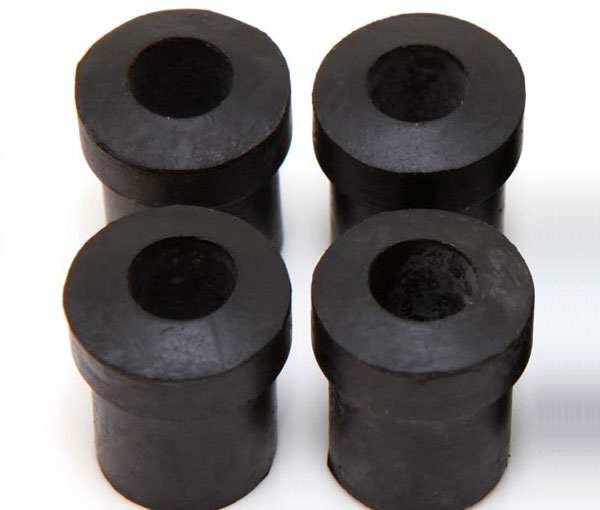 Click here to Send Enquiry
WhatsApp

The modern world has made man a slave because of its technology and advancements. But it also offers a lot of easy and doable ways of getting tough things done smoothly and quickly. Rubber bushes are one of the saviours which help us make our lives smoother and easier because if there are no sound and vibration isolating system in your vehicle then who will protect you from the annoying noise harshness and unwanted vibrations occurring in your car.
What are Rubber Bushes?
A rubber bush is a type of vibration isolator. It absorbs the energy transmitted through the bushing while providing an interface between two parts. Commonly used in vehicle suspension system, where a bushing is made of rubber, it separates the faces of two metal objects while allowing a certain amount of movement. This movement allows the suspension parts to move freely
The main advantage of a bushing, as compared to a solid connection, is less noise and the vibrations are transmitted. An added advantage is they do not require much lubrication.
We manufacture many different types/sizes of Rubber Bushes. In our constant effort to attain maximum customer satisfaction, we also take orders for rubber bushes as per our customers' customised technical requirements, sizes and drawings. Rubber bushes can be specially designed for following requirements:
Ultra low compression set: for vibration absorbing
Excellent weather / UV resistance: for long product life
High heat resistance: usable up to 250 degree celsius
Oil / Fuel / Acid resistance: for use in extreme conditions
Fire resistance: self-extinguishing bushes for fire safety/low flammability
Food grade applications: FDA/BGVV/USP Class VI/WRAS compliant
Applications:
Automobile Industry, Balancing Machines, Gears & Motors, Pumps, Blowers, Vibrators, Couplings, etc.
Types of Rubber Bushes
All types of rubber bush possess different properties for NVH (Noise, Vibration and Harshness). Few of the popular rubber bushes types which we offer are:





Applicationsof Rubber Bushes in Automobiles
Absorbs shock
Sustains very high static and dynamic loads
Reduces noise
Eliminates the need for lubrication
Reduces maintenance
Meets the standards of low NVH (Noise, Vibration & Harshness)
Reduces vibration
Our products are packed in extra care and precautions in wooden pallets/cartons or corrugated boxes/HDPE polybags to ensure the delivery remains safe and unharmed. These boxes are generally available in sizes of 25 kg, 50 kg and 100 kg.Depending on our customer's needs; we also customise the boxes ensuring the customer is happy and satisfied with our products and service.

Trinity Auto Engineering (P) Ltd. – Supplier, Exporter, Manufacturer of Rubber Bushes


Click here to Send Enquiry
WhatsApp
Countries where we supply Rubber bushes
Currently we supply to the following countries across the globe. Our aim is to keep adding names of more countries in this list.

Norway, Finland, Lithuania, Poland, Belarus, Azerbaijan, France, Belgium, Sweden, Norway, Malta, Denmark, Hungary, Romania, Bulgaria, Estonia, Ukraine, Iceland, Italy, Spain, Uzbekistan, Zambia, Mexico, Brazil, Canada, Argentina, Cuba, Ecuador, Paraguay, Netherlands, Australia, New Zealand. Costa Rica, Ethiopia, Cameroon, Madagascar, Namibia, Benin, Congo, Rwanda, Botswana, Kuwait, Jordan, Maldives, Myanmar, Srilanka, Ghana and Bhutan.