Rubber Metal Bonded Bushes
TRINITY AUTO ENGINEERING (P) LTD., ISO 9001:2015 CERTIFIED COMPANY, SUPPLIER, EXPORTERAND MANUFACTURER OF RUBBER METAL BONDED BUSHES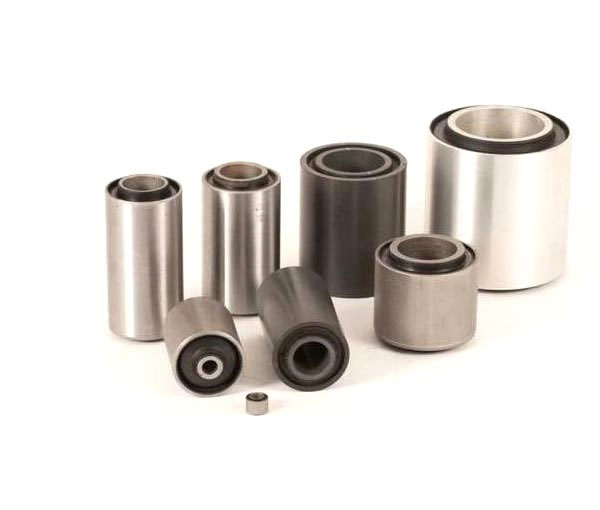 Click here to Send Enquiry
WhatsApp

Trinity has been manufacturing, supplying and exporting a huge variety of bushes since more than two decades. The capacity to deliver these top-quality products to various industries in different parts of the world makes us one of the preferable vendors amongst our clients and in the industry.
What are Rubber Metal Bonded Bushes?
These bushes are used for many functional requirements in different applications in static as well as dynamic conditions. Featured with physical as well as chemical bonding strength, they are capable of absorbing shocks and vibrations. Having great tensile strength and high endurance, these bushes offer resistance in unforeseen conditions. These bushes are utilized for the isolation of vibration as well as noise in automotive and engineering equipment.
Features of Rubber Metal Bonded Bushes
Superior performance
Abrasion and heat resistant
Noiseless operation
Optimal tensile strength and sturdy designs
Controls vibrations and shock
Corrosion-resistant
Our products are packed in extra care and precautions in wooden pallets/cartons or corrugated boxes/HDPE polybags to ensure the delivery remains safe and unharmed. These boxes are generally available in sizes of 25 kg, 50 kg and 100 kg.Depending on our customer's needs; we also customise the boxes ensuring the customer is happy and satisfied with our products and service.

Feel free to get in touch with us regarding your queries or if you wish to buy rubber metalbonded bushes, we'll be grateful to assist you.

Trinity Auto Engineering (P) Ltd. – Supplier, Exporter, Manufacturer of Rubber Metal Bonded Bushes


Click here to Send Enquiry
WhatsApp